As part of the preliminary characterization and tech-spec phase, it is important for us to learn the customer's target audience, and analyze which tools (devices, browsers) the main part of the target audience will use to view the new website / application. In quite a few projects we are still asked about Internet Explorer (IE) browser support, whether it is in version 11 or even earlier versions. We have compiled for you some facts about the browser to help it decide, understand, that it is no longer relevant to you.
Some history
Internet Explorer 1.0 was first launched in August 1995. It can be said that until Google released the Chrome browser, 13 years later, the development of IE progressed quite slowly. It had no significant competitors and it dominated the market unchallenged. Until Google Chrome started rocking his chair in 2008. In those days IE was running version 7, and since then Microsoft has started releasing updates "at an accelerated pace". To make the long story short, the latest version of IE is 11, launched in 2013, and is officially the last version of this browser, after which Microsoft released a new browser called Edge and in fact completely stopped developing the IE browser.
Feature and backwards support
In 2016, all IE browsers from version 10 and below – lost their official support, so in everything related to IE we were left with only one version: 11.
It is commendable that Microsoft takes care of the continuity of its products, which cannot be said of its competitors, so businesses that have built internal systems based on unique features for IE (or any other company product) can rest assured that the infrastructure will continue to run for many years. At the same time, recently Microsoft is increasingly reducing the compatibility of its own products in IE, and along with the statement that IE is not going anywhere – it seems that it encourages companies to keep IE only for those internal developments, and not use it as a primary browser for web browsing. Joining this is the announcement that Office 365 products will cease to support Explorer starting in August 2021, after Microsoft Teams has stopped supporting the browser as early as November 2020.
So wait a minute what's the alternative?
Microsoft feels confident to embark on such a final move after in early 2020 it replaced the engine of its new Edge browser with the engine of the open source Chromium project. Yes yes you hear well – the Microsoft Edge browser now runs on the same engine of the Google Chrome browser, when in fact Google is leading its development and Microsoft for its part also contributes quite a bit of code to this project.
Up-to-date usage data
Let's look at some data, starting with an analysis of browsers market share, which shows that in a global cross-section, the scope of use of IE is as low as 1.37%:
Continue with the local section according to which the percentage of use is even lower and stands at 1.3%: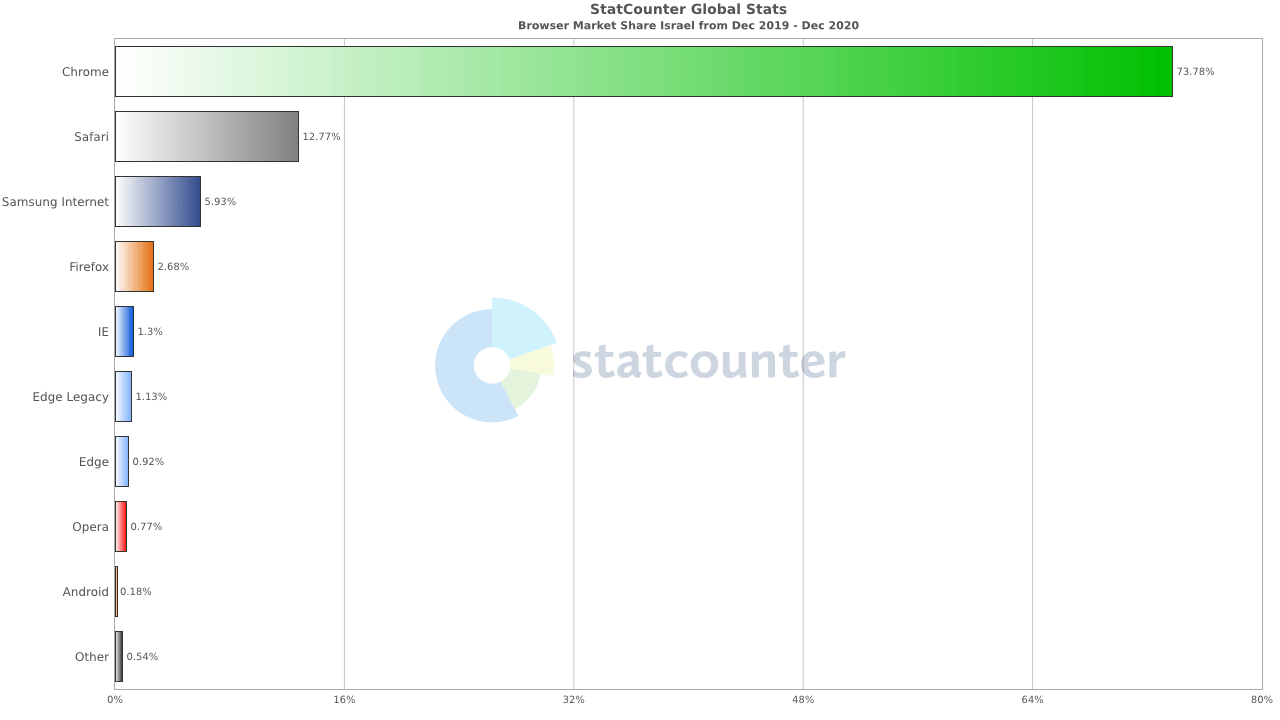 Finally some data about the Africa market. Africa? Yes Africa. I recently heard a hypothesis from a client, that since their main target audience is in Africa and there probably IE is more widely used. The opposite is the true and in Africa the percentage of IE usage in 2020 was as low as 0.79%:
So what does all this actually mean?
It can be assumed that the 1.37% who use the Internet Explorer 11 browser are among users of organizations that do so in favor of using internal systems written and adapted specifically for this browser, and in our estimation one can certainly be quiet in deciding to build your next website using newer technologies, without being limited to outdated technology supported by IE 11, which will lead to improved performance and greater compatibility with modern devices.
Back